Zojirushi NP-HCC10 Induction Heating System Rice cooker
$345.00 (Price_excluding_sale Tax)
2 in stock
Zojirushi NP-HCC10 Induction Heating System Rice cooker
The Induction Heating System Rice Cooker & Warmer uses high-tech Induction Heating (IH) technology to heat the inner cooking pan. Because of this special heating method, the rice cooker is able to make precise temperature adjustments to cook exceptional rice.
Superior induction heating (IH) technology
Healthy cooking options: brown rice and GABA brown rice settings
Easy-to-clean clear coated stainless steel exterior
Automatic keep warm and extended keep warm
Delay timer (2 settings)
Triple heater (bottom, side, and lid) generate heat all around for even heating
Menu settings include: white rice (regular, softer, or harder), jasmine white rice, mixed rice, sushi rice, porridge, sweet rice, brown rice, GABA brown rice and quick cooking
cETLus listed, tested to comply with FCC standards
Made in Japan
| | |
| --- | --- |
| Model No. | NP-HCC10 |
| Capacity* | Up to 5.5 cups / 1.0 liter |
| Dimensions (D x W x H) | 14 x 10 x 8 inches |
| Electrical Rating | 120 volts / 1,230 watts |
| Color | Stainless Dark Gray |
| | |
| | |
Top reviews from the United States
Reviewed in the United States on July 12, 2017
Color: Stainless Dark GraySize: 1.8 L
Verified Purchase
My wife gave me a very hard time about spending this much on an appliance that "should cost $40 at most". Her words.
So, against her wishes, I splurged and got my dream rice cooker. The first night we got it I cooked Jasmine Rice. More grumbling about how long it took to cook…an hour for Jasmine Rice!?$&@? Not my best sales pitch. But then I asked her to describe her Rice experience with the cheaper cooker. Uneven cooking, wet spots, etc… Fast forward to an hour later…PERFECT RICE! What? PERFECT RICE! "Worth the wait," she says.The next we went to the store. "What other kinds of should we try?" she asks. What about that GABA Brown Rice? No problem, we waited two hours for that batch, but it was even better than the first! What about grits? (She is from Georgia) no problem; I even found a recipe for grits casserole in the rice cooker. What about parboiled rice? She has now ventured out on her own. I believe we now have five different kinds of rice in our cabinet. All have their own setting, and all come out perfect.
No more do I hear discussion about cheaper rice cookers that don't perfectly steam the rice. This device delivers perfection and keeps Rice for days on the extended warm setting. I'm not kidding, five days! I can't say enough.
Bottom line, spend the money. Get the larger model. Explore new rices. Smile! One of my best purchases.
316 people found this helpful
Reviewed in the United States on April 20, 2019
Color: Stainless Dark GraySize: 1 L
Verified Purchase
Fantastic appliance. I have mostly used it for two things. Brown rices (like Lundberg wild blend and black japonica, and wild rice), and also steel-cut oatmeal. For the brown rices, I found that precisely using the Zojirushi measuring cup, and brown rice water lines in the pot yielded excellent results. The GABA brown rice setting makes a particularly tasty result; possibly with a health benefit. The timer function on the cooker is super simple to use, and for the long GABA brown rice (~3h) cooking time, I just set it up in the morning, and enter the time I want the rice to have completed cooking. Results for cooking steel-cut oatmeal are also outstanding; significantly better than anything else I've tried, and very-very simple. In my opinion, if you like this or products like Bob's Red Mill whole grain cereals, the rice cooker purchase could be justified just for this. To produce 'just enough' cereal for two people, I use 3/4 Zojirushi measuring cup of cereal (I really like McCanns Steel Cut Irish Oatmeal), three of those measuring cups of water, and about 1/2 tsp kosher salt. Do this in the evening before bed, set the rice cooker to the 'porridge setting', and set the time for when you want it ready in the morning. Literally takes about 90sec to do in the evening. As mentioned above, the resulting oatmeal is fantastic, with a really excellent and pleasing texture. The water/cereal proportions I suggest make a rather thick product that I then add some milk to. You might want to experiment with proportions to get the result that pleases you. Finally; everything cleans up easy, fast, and with no fuss. With rice or porridge, absolutely no crust/burning/sticking as was the norm in my previous rice cooker. I'm very happy with the purchase of this product, and would do so again. It is a bit pricey, but as the old saying goes: 'you only regret buying good tool once'.
104 people found this helpful
| | |
| --- | --- |
| Weight | 20 lbs |
| Dimensions | 20 × 15 × 10 in |
| Capacity | Mini (Under 3 Quarts) |
| Colors | Metallic |
Related products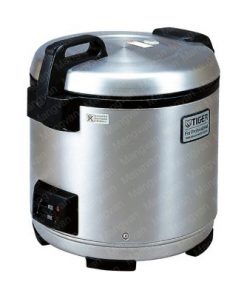 Out of stock
$

349.00 (Price_excluding_sale Tax)